So, you're stuck inside because it's too hot, too windy, too stormy, flooded, snowed in, or something else (notice I left rain off, we love getting out in the rain, as long as its safe and not severe storms of course).
I'll be adding to this list so check back regularly!
1. Use these great skeleton print outs - get the kids to lay them out in the right positions, you can then cut them out and either join each one with sticky tape or staples (use scrapbooking pins if you want them to work like joints and move around) and you can also trace around the kids (depending on their size) and cut out and stick them to the outline. Another add on for older kids is to cut out the labels from the first sheet and have them place them in the right spot, or place them on the larger cut out pieces. For younger kids you can sing along to Dem Dry Bones or do the Hokey Pokey. Another one for older kids - you can get them to spell or pronounce the bone names or create a giant version of 'snap' using the names and the pictures!
2. Drawing Time. Find a photo of them that shows their face clearly and cut it in half down the middle, stick it to paper and get them to draw the other half. This works just as well for random objects or pictures, just scour your junk mail or magazines for any picture that suits their ability. Another simple option is to create a doodle book for your kids. Fold and staple some scrap paper together and on each page simply draw a few lines or shapes or squiggles, then let them use their imagination and turn them into wonderful creations. Again, suitable for any age!
3. Puzzles. Puzzles are a great one and you can do so much with them. I find that the kids want me to sit with them and help them, in reality though they really just want support and once they realise they can do it the self confidence they get from doing it themselves is wonderful. Once the initial puzzle is completed, you can get the kids to draw the image in the puzzle, get them to sort the pieces by colour, count the shapes, talk about what you see, write about the images and create a story to go with the puzzle (for older kids). See some of our great puzzles here.
4. Technology/Apps/Computer games: I am not a huge fan of technology for kids but when we visit our local library they have interactive kids games on the kid friendly pc's, and I found out we can access them from home via the library online catalogue. There are so many games that are focused on literacy and numeracy which is wonderful - heaps that encourage creativity, musicality and imagination too. I think these games are okay in small quantities with a focus on extending learning and also talking to them about what they are doing. Leave a comment on the blog with your fav apps or games if you like.
5. Cooking. Cooking is a great one because it achieves two things, well three actually, keeps the kids entertained, teaches them all sorts of things and gives you and end product that the kids can then eat - which keeps my kids quiet for a while ;-) Our fav things to make are simple cheese crackers, sweet potato chips, fresh pasta and DIY pizzas!
6.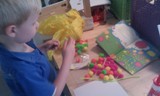 Book Inspired Art: Get your child to chose a favourite book, deck them out with art materials, or keep it simple with crayons and let them create something inspired by their book choice.
Check out our blog here for our attempts and results.
7. Sensory Play: Sensory play is a big hit in our house and it can vary from messy, very messy, to oh-my-gosh-how-am-I-going-to-clean-this-up messy, to relatively clean - so pick something you are comfortable with and happy to clean up afterwards! we have 2 fav's in our house. First is dry pantry goods such as rice, oats and lentils set up in a large shallow tray (we use under bed tubs from Ikea) and add in diggers, mixers, bulldozers, scoops, cranes and any other construction vehicles you can find. Your little ones and big ones alike will be moving, scooping, pushing, mixing and role playing for a long time, and it's pretty easy to clean up.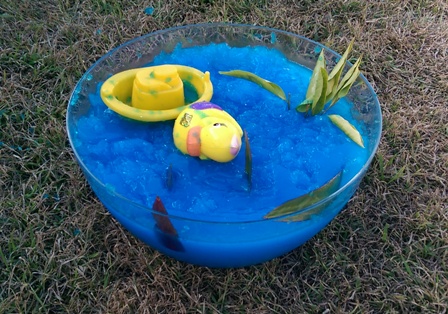 The second we adore is underwater themed, we fill a big bowl or tub (biggest we have that will fit in the fridge) with water, blue food colouring and gelatine (follow instructions on the pack for ratio's and directions) and pop into fridge to set. If I have time I scout around for sea creatures to submerge in the blue goo before it sets, otherwise we add them to the play scene later. Indoors, simply throw down an old towel or sheet - and for us clean up time usually means the bath tub, for the toys and items and the kids! Here is a big list of other sensory activities you can do too.
8. Pom Pom throwing. When you're stuck indoors the kids need to still keep active and burn off energy, we like this activity because of the many ways you can take the activity. We always start off with egg cartons and throwing pom poms into the cartons, but last time we moved on to sorting by colours, shapes, counting, lining them up, grouping them and the kids even made up their own games (stuffing the pom poms through the holes in the egg cartons, and using them like crocodiles to munch up the pom poms). It's also something that can be repeated again and again with no new materials.