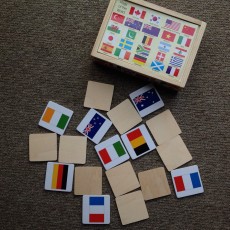 When I saw this game, it was a must have, and I am so excited to play it with my child.
Memory games are great for the brain, and this is sound science, tested numerous times! So much research has been done with memory games that it is essential we insist we play it with our little-one.
These are classical games used for development of creativity and functional thinking.
Memory games:
Improve concentration and focus
Train visual memory
Strengthen short-term memory
Prevent memory-related illnesses such as Alzheimer's diseases,
Increase our attention.
But this particular game, which you can purchase on Freestyle, has a small bonus, and that it has country flags.
This is a little bit tricky as many flags can look similar and there are small variations for the child to differentiate.
Twist to the memory training. Once the child has learned the flags, next step is to ask some questions about the flags. Such as, which flags have a circle, bird, or stars?
If you are playing against the clock, it also adds to the challenge of keeping your brain fit, by training you to think fast.
There is no age restriction for this activity, the earlier you start and longer your play, your brain will retain its fitness.
I have a 3 ½-year-old, who has a number of times surprised me with her memory. Now that she is talking, she is telling me events that have happened way before I thought she had the capability of understanding. Few days ago we saw a magpie, she said 'mum look it's a bird on the roof', I said: 'Yes, there is a bird on our roof, that is a magpie'. She then says, yes, that bird poked 'my friend' in the eye. For a moment I was speechless, she remembered an event that has happened almost a year ago, and recognised a bird, which in full speed poked our little friend above her eye in the park.
My daughter and her little friends regularly demonstrate to me that children are real sponges and little plants that need to be nurtured with challenges.
My challenge with this game, is to teach my little one what does 'country' mean, she knows the word Australia, but does she really know what does this mean? When we are playing this game, and saying the names of the countries, I wonder, what does she think a country is?
I can't wait to hear her answer. So, we are off to play!
Mira Sarac
Mother. Passionate about the working of the relationships with ourselves and others. Absorbed in the topics about the nature of our psyche and how to be the best version of ourselves. Starting off by being healthy.