We love books in our house, to the point that they are overtaking our house! Every time the Lifeline Bookfest rolls around we head off and stock up and usually for each birthday and Christmas they are given books by relatives.
We recently set about creating some book inspired art.
Each of the kids chose their fav book at the time and we first talked about the kind of art they wanted to create, what materials we'd need then we set to work.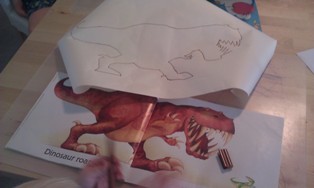 The youngest needed a little help, so we kept his simple, I placed paper over his favorite character and traced the silhouette and he then decorated and coloured it in. It was a dinosaur so pretty easy for him.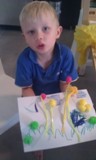 My eldest chose The Lorax and I was super impressed at the detail he was able to recreate. It has to be one of our all time best activities so far and also one of the greatest pieces of artwork we will keep and treasure.